New Limited Power of Attorney for Real Property Transactions
QUESTION: A client has asked me whether he can use the new "Limited power of attorney for real property" statutory short form to close on a property he is purchasing. He said that he read about the form online, and he needs to be out of town on the day of closing but he knows someone who can sign for him. I have never heard of a special power of attorney form for real estate transactions. What is my client talking about?
Have a legal question? Call the Legal Hotline. As a member of NC REALTORS®, you have free, unlimited access to this benefit. Call 800-443-9956 with any questions regarding contracts, forms, fair housing, disclosure and more.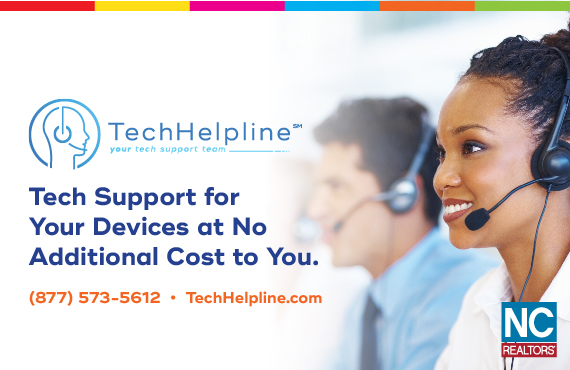 NC REALTORS® announces new member benefit – Tech Helpline
Effective January 1, 2018, all NC REALTORS® members have a new member-exclusive benefit – Tech Helpline. Designed to provide technical support for software, apps, desktop, tablet, laptop, smartphone, and other hardware devices at no cost to members, this service will undoubtedly be one of the most valuable and epic member benefits.

NC REALTORS® can access the helpline Monday - Friday from 9 a.m. to 8 p.m. and Saturday from 9 a.m. to 5 p.m. EST by calling the dedicated NC REALTORS® phone number (877-573-5612), starting a chat, or emailing the Tech Helpline experts.

Learn more about this epic new benefit »
#WinLeadMeet | Vision Quest and Winter Leadership Meetings are around the corner
Every January, NC REALTORS® kicks off the year with Vision Quest & Winter Leadership Meetings (formerly Inaugural Meetings). This year's event will be held January 23-25 at the Grandover Resort & Conference Center in Greensboro. Registration is currently open for the events listed below. No registration is required for committee meetings.
REALTOR® Party & NC REALTORS® PAC Training, Tuesday, January 23 – REGISTER
Vision Quest, Wednesday, January 24 – REGISTER
President's Reception, Wednesday, January 24 – REGISTER

Committee Meetings, Wednesday, January 24 & Thursday, January 25

Board of Directors Meeting, Thursday, January 25

Hotel Information: The NC REALTORS® hotel block has sold out for Wednesday, January 24. There are still rooms available on Monday, January 23 and Tuesday, January 23. Please call 336-294-1800 to make your reservations.
Amy Hedgecock to represent NC REALTORS® at Business North Carolina Economic Forecast Round Table
What will North Carolina's economy be like in 2018? Where will growth come? Business North Carolina and NC State University have gathered a distinguished panel of experts, including 2018 NC REALTORS® President Amy Hedgecock, to discuss where the state's economy is headed. This Economic Forecast Round Table will take place this Wednesday at 12:30 p.m. at NC State's Centennial Campus in Raleigh. And you, too, can be involved in the discussion.

Register Today »
---
Dive into the nuts and bolts of property management
NC REALTORS® Property Management Division (PMD) is hosting a series of courses around the state to teach you everything you need to know about real estate management.

Next up: Property Management Essentials CE in Greensboro on Friday, February 16 from 1 – 5 p.m. Content is being delivered by the Capital Real Estate School and will focus on fair housing and understanding the Rental Agreement and the Management Agreement.

Register Today »

* PMD members receive discounted pricing on this course through Friday, February 2. An email with this information and the separate registration link was sent to you on Friday, January 5.