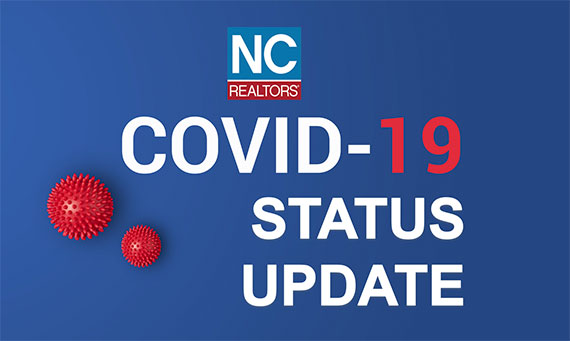 April 3 2020

In today's STATUS UPDATE we provide you with more information about the business resources available to REALTORS® and other small business persons.

We have included a lot of links to resources from NAR, as well as other groups and government entities. New resources are being developed every day so make sure to check ncrealtors.org/coronavirusupdate under the "Business Resources" and "NAR Resources" for the most current information.

NAR was a champion of the federal CARES Act legislation because of the important provisions benefiting REALTORS®. Many of those are discussed further in these resources. The NC REALTORS® Government Affairs team has been working on the state level to better understand the impact of many of these programs and communicating with legislators regarding any needed action, most notable on the unemployment benefit opportunity for independent contractors.

Stay safe and continue to monitor all of the information which is being distributed by health officials.

Please note that all of this content is available on the STATUS UPDATE page on ncrealtors.org.
---
NAR has launched a hotline for REALTORS® to answer questions that you may have about your business and many of the federal programs which have been activated to help.

800-874-6500
NAR COVID-19 Hotline
---
Small Business Administration Programs

As part of the CARES Act which was signed by the President last week, multiple programs through the federal Small Business Administration (SBA) were authorized. The legislation provides funding for the Paycheck Protection Program, modifies the existing Economic Injury Disaster Loan (EIDL) program and provides immediate loan payment relief for current SBA 7(a) borrowers. Below are resources regarding each of these programs.

Monday's Legal Q&A will also take a deeper dive into the SBA programs which are available to REALTORS®.
---
Please note: The Paycheck Protection Program is not currently active for independent contractors while additional rules are put in place by the US Department of Labor. Applications for independent contractors are expected to be available on April 10.
---

Unemployment Benefits for REALTORS®

In addition to the resources offered by the Small Business Administration, the CARES Act also authorized additional unemployment benefits that independent contractors MAY be eligible for. NAR championed this component of the legislation because of the unique benefit that it may provide to REALTOR® members. A key provision in the law creates a temporary "Pandemic Unemployment Assistance" program that extends unemployment benefits to those not traditionally eligible, including self-employed individuals.
 
---
PLEASE NOTE: At this time, independent contractors are NOT currently able to file for unemployment benefits through the North Carolina Employment Security Commission. They are awaiting further guidance from the US Department of Labor as North Carolina law does not currently allow independent contractors to receive benefits through the system. NC REALTORS® staff is in constant communication with state officials and will provide more information as soon as it is available.
---

The North Carolina Employment Security Commission has launched a COVID-19 resource page with information about their programs. It currently includes the following guidance for independent contractors.

Independent contractors and self-employed workers are not typically eligible for unemployment insurance benefits. However, these individuals may qualify for federal Pandemic Unemployment Assistance available as a result of COVID-19. The Division of Employment Security is awaiting guidance from the federal government to implement the Pandemic Unemployment Assistance program.

Resources for Employers and Associations

NAR continues to gather other resources for brokerages and associations regarding how to address issues facing employees during this time. This guidance is in addition to the other information about federal programs.

General Business Resources

These sites include a whole host of resources developed by federal and state-focused organizations and government entities. As they are not focused on one specific topic, they are included as general business resources. Check out the following sections for more detailed information about specific programs.

Federal Resources

Other Resources

North Carolina COVID-19 Rapid Recovery Lending program: Supports North Carolina small businesses and family farms as they recover from the economic impact of COVID-19. This rapid recovery loan helps small businesses bridge the gap between when crisis strikes and when federal loans, insurance payouts, and other relief funds are approved, or businesses have time to recover.

Hope Inside COVID-19: HOPE Inside Disaster is the only financial emergency preparedness and recovery service in the country, created following the tragic events of 9/11. In partnership with FEMA, Operation HOPE pioneered the new federal policy space of emergency disaster preparedness, response and recovery. Through partnerships with the American Red Cross, FEMA, and industry leaders, our teams deploy in response to federally-declared disasters to serve as a financial advocate for local residents and small business owners.
 
---
We Are Answering Your Questions

We are spreading the word about what Governor Cooper's Stay At Home Order means for your real estate business and what precautions you should be considering in light of COVID-19. Watch us answer your questions HERE.

We will keep adding videos. You can also find text versions of the Q&As HERE.

Still have questions? Contact the NC REALTORS® Legal Hotline legalhotline@ncrealtors.org.

 
---
NC REALTORS® Offices

As a reminder, NC REALTORS® is continuing its operations with staff working remotely to ensure that we maintain the same level of service to our members. Our offices are currently closed to members and guests until at least April 10.

You can access our staff directory at ncrealtors.org for contact information. The NC REALTORS® Legal Hotline will remain open during our regular business hours of Monday through Friday, 8:30am to 5:00pm. To contact the Legal Hotline, email legalhotline@ncrealtors.org. The NC REALTORS® Tech Helpline is also Monday – Friday from 9:00 A.M. to 8:00 P.M. and Saturday from 9:00 A.M. to 5:00 P.M. EST by calling the dedicated NC REALTORS® phone number (877-573-5612) or visiting TechHelpLine.com.