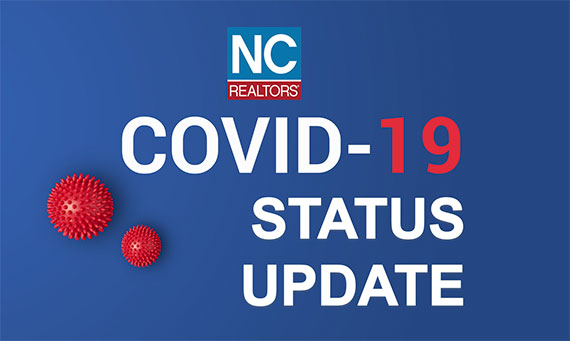 April 23, 2020

In today's STATUS UPDATE, we provide you with a preview of important information regarding unemployment benefits for independent contractors, as well as updates regarding Governor Cooper's extension of the Stay-at-Home order, the new virtual NAR Legislative Meetings, and insight on some of our survey efforts.

Stay safe and continue to monitor all of the information which is being distributed by health officials.

Please note that all of this content is available on the STATUS UPDATE page on ncrealtors.org.

READ THIS UPDATE: Unemployment Benefits and Independent Contractors

On Thursday, the Employment Security Commission unveiled information regarding the roll-out of the federal Pandemic Unemployment Assistance program for North Carolina independent contractors and self-employed workers who are out of work as a result of the COVID-19.

Beginning tomorrow, Friday, April 24, individuals will be able to apply for assistance through des.nc.gov.
---
TOMORROW MORNING, ALL NC REALTORS® MEMBERS WILL RECEIVE AN EMAIL WITH REALTOR-SPECIFIC INFORMATION REGARDING THESE BENEFITS. WE WOULD ENCOURAGE YOU TO REVIEW THIS GUIDANCE PRIOR TO SUBMITTING YOUR APPLICATION.
---
Cooper extends statewide Stay-At-Home Order through May 8

"I will not risk the health of our people or our hospitals, and easing these restrictions will do that."—Governor Roy Cooper

Today, Governor Cooper announced an extension of his statewide stay-at-home order through May 8. Authorized initially through April 30 under Executive Order 121, this directive effectively ceased "non-essential activities" to flatten the curve of the coronavirus.

In his press conference, the Governor stated that his decision to extend his order was based on data but that even though the curve has flattened, it was not time to lift restrictions.

The Governor presented numerous metrics that the state needs to see progress on for health officials to have greater confidence that lifting restrictions would not cause a resurgence in the virus. He also laid out a three-phase plan to gradually re-open parts of the economy to prevent hot spots of the virus. For complete details on the metrics and the re-opening plan, check out the Governor's press release. More information will be updated on the NC REALTORS Coronavirus resource page as well.
---
2020 REALTORS Legislative Meetings: Home Front





As was announced earlier, due to recent restrictions and recommendations implemented by the federal & Washington, D.C. governments, NAR will deliver previously planned programming for the 2020 REALTORS® Legislative Meetings virtually.

In addition to virtual committee meetings, there will be multiple Conference Sessions with some great speakers.

If you are serving on a NAR Committee, you should have received information from your committee staff regarding the date and time of your meeting.

While registration is complimentary, they have asked that you sign-up for the streamed sessions. Registration will open later this week.

For a complete schedule of events and more information, visit legislative.realtor.
---
NAR Explains the CARES Act

We are finding many members still do not know or have ignored information about benefits under the CARES Act. This video features REALTORS®, with different business structures and sizes, sharing how they successfully obtained Paycheck Protection Program (PPP) and Economic Injury Disaster Loans.

They'll also hear tips on navigating the SBA website, what forms to have on-hand when applying, and how to find a lender. Don't wait-Funding is limited.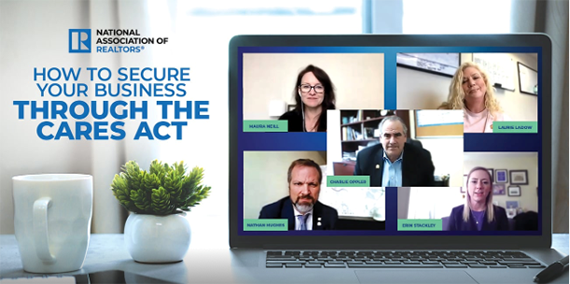 ---
Keep Your Mind & Skills Sharp

NC REALTORS® wants to help you build skills and adapt to changing times. We are regularly adding to this roundup of broadcasts, webinars, courses, tools, and programs to help you succeed.
---
NC REALTORS® COVID-19 Q&A

With so much information being put out by state and local officials, NC REALTORS® wanted to break down some of the most-asked questions that we have received from members. Featuring many familiar faces from across the state, check out our complete library on our YouTube channel.
---
Tell your Facebook friends "Housing is Essential"

We need your help. We are experiencing unprecedented issues due to COVID-19. America's health is at risk. America's economy - including our real estate industry - is at risk, too. Now is the time for all of us to show our support for both. If you haven't already added a frame from your local board, please consider using our new "Housing Is Essential" frame on your Facebook profile. It says our members - REALTORS® - play an essential role in keeping us safe and our economy going. Thank you!

To add a frame to your profile picture:
Search "Housing is Essential" and choose the frame created by NC REALTORS®.
Click "Use as Profile Picture" to save.
---
NAR has launched a hotline for REALTORS® to answer questions that you may have about your business and many of the federal programs which have been activated to help.

800-874-6500
NAR COVID-19 Hotline
---
NC REALTORS® Offices

As a reminder, NC REALTORS® is continuing its operations with staff working remotely to ensure that we maintain the same level of service to our members. Our offices are currently closed to members and guests and will remain closed for the remainder of April. 

You can access our staff directory at ncrealtors.org for contact information. The NC REALTORS® Legal Hotline will remain open during our regular business hours of Monday through Friday, 8:30 A.M. to 5:00 P.M. To contact the Legal Hotline, email legalhotline@ncrealtors.org. The NC REALTORS® Tech Helpline is also Monday – Friday from 9:00 A.M. to 8:00 P.M. and Saturday from 9:00 A.M. to 5:00 P.M. EST by calling the dedicated NC REALTORS® phone number (877-573-5612) or visiting TechHelpLine.com.