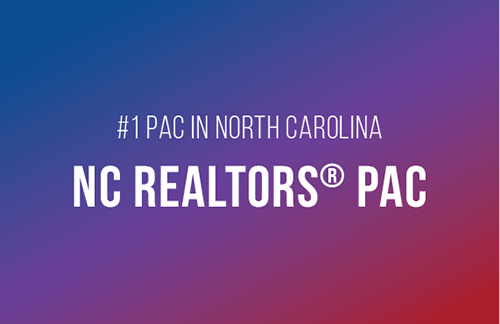 RPAC Q&A
1. Who are the best REALTORS®?
NC REALTORS®

2. Who are the best Advocates?
NC REALTORS®

3. Who are the strongest RPAC supporters?
NC REALTORS®

4. Who has the Number 1 NC PAC?
NC REALTORS®

Because of You & Your Strong Support, RPAC is the Top PAC in North Carolina!!
RPAC is not only the top state PAC but we dominated the other PACs. The strong support of our dedicated RPAC donors, made this possible. You should take tremendous pride is not only being a force in our industry but a force in North Carolina. Congratulations to everyone for making RPAC the top PAC in North Carolina!! Click here to see just how we rank in comparison to other PACs.

Capitol News
After a two-week recess the legislature returned on January 27th to officially start business. Starting on the 27th bills can be filed and committees will start meeting. Even though session is just officially kicking off, the NC REALTORS® has been busy having conversations with leadership and key members to discuss our legislative priorities for the year. In case you missed our priorities during the last update, please click here to view them.

State Political Coordinators Launch SPCs On the Hill
In order to supplement our advocacy team updates, NCR is launching a new SPCs On the Hill video legislative update. Consider this your quick five-minute take on what's going on at our State Capitol. The new update will be included in the Advocate. If you are an SPC and would like to provide an update, please contact Pam Melton, Director of Political & External Communications at pmelton@ncrealtors.org or if you would like to become an SPC, please contact Katharine Wendt at kwendt@ncreatlors.org. Participants in the video update will be selected on a random basis and everyone interested will be given the opportunity to provide an update.

GADs
The partnership between GADs and local associations have resulted in enhancing relationships at the local level. Check back to this section regularly as we will highlight the great work being done at the local level whether it's enhancing policy issues, economic development or giving back to the community. This week's region is Eastern North Carolina. Kathy Wood is the Regional GAD for Carteret, Costal Plains, Jacksonville, Neuse River and Washington and Beaufort Associations. Read more about what's going local outreach and advocacy efforts in Eastern North Carolina.

Idea Exchanges to launch soon
NAR's community outreach area will soon start a series of webinars call Idea Exchanges. The webinars will highlight the AEs and GADs impact of community outreach. The focus is on economic development and will cover such initiatives as smart growth grants and polling.

The first presentation of this new program will feature the Greensboro Regional REALTORS® Association's use of the Smart Growth polling program offered by NAR. You are encouraged to join the webinars to get ideas for your association. Stay tuned for updates and more information in future Advocates and from your assigned GAD.