Legal Q&A | Will I be legally responsible for making sure that my agents get privilege licenses every year?
QUESTION: I am in the process of getting a real estate license for my newly-formed real estate firm. I will act as the Qualifying Broker and BIC of the firm, and I plan to have several agents affiliated with the firm. I have been an agent for ten years and have paid the Department of Revenue for a privilege license each year. Since I'm going to be doing business in the name of my firm, will I still need to get a privilege license from the NC Department of Revenue for myself, and/or will I need to get one for the firm? Also, will I be legally responsible as BIC of my firm for making sure that my agents get privilege licenses every year?
---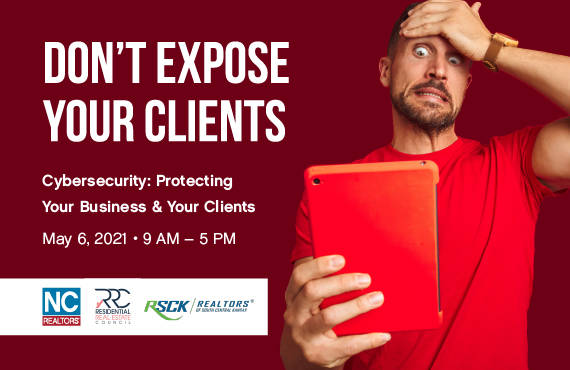 Facebook may have exposed you – don't do the same to your clients
Another data breach in the news – Facebook Data Breach: Here's What To Do Now
 
If you feel troubled or exposed by this latest breach, just think how your clients would feel if their private information was leaked because of poor decisions on your part. Act now to boost your security practices with help from a new virtual course, Cyber Security: Protecting Your Business and Your Clients* on Thursday, May 6. Learn new strategies and tools to guide your business and clients through the perilous legal, online and social media world. Walk away with actionable tips for personal security practices to help secure and protect you and your clients' valuable information, before it's too late. Register
 
*This class is approved for 4 Hours CE and counts towards your CRS Designation or CRS Maintenance 
---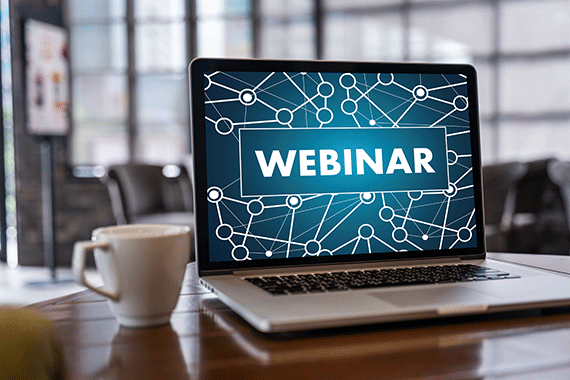 Navigate a post-pandemic world with these educational opportunities 
Webinar | Lawrence Yun's Economic & Market Update – June 9 at 1PM
Join us for an economic and market update with Dr. Lawrence Yun of NAR, where we'll discuss the impact of the COVID-19 pandemic on North Carolina. Register
 
On Demand Video | Questions for a Pandemic World
Are you really communicating? Are you able to focus? Like the rest of the world, you've been dealing with the pandemic since March of 2020, but have you really learned how to deal with it? This session asks big questions about how you're coping with today's reality. Then, offers the best tech tools to help you control distractions and get stuff done! Register
---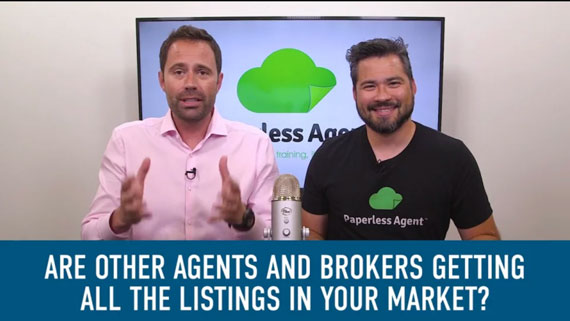 Win More Listings Every Month
On Thursday, April 15th at 12pm ET, Sarah Pinnell and Josh Long, from the Paperless Agent, are hosting a FREE, Social Media Marketing Calendar for Agents - designed to help you win more listings every month – right now. You'll discover strategies crafted to help you stand out, look professional, get recognized, and effortlessly get listings fast all while staying active online. Save your seat

Paperless Agent is part of the REALTOR® Partner Program, one of the most valuable benefits of membership that provides you substantial discounts and savings on the products and services you use most. Log in to ncrealtors.org/save to access your discounts today! 
---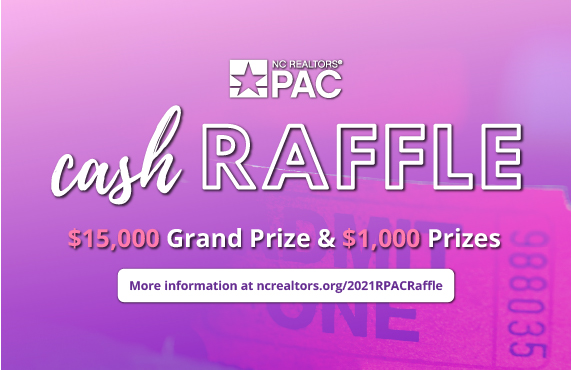 Don't miss out on your chance to win $15,000!
NC REALTORS® PAC is excited to be giving away 35 - $1,000 cash prizes as well as a $15,000 grand prize for a total of $50,000 in prizes this year! The raffle ends April 30th and entries are $50 each! By investing today, you help us continue to advocate for REALTORS® and the real estate industry. Enter here »

Contributions to RPAC are not deductible for federal or state income tax purposes. Contributions are voluntary and are used for political purposes. Suggested amounts are merely guidelines and you may contribute more or less than the suggested amounts. The National Association of REALTORS® and its state and local associations will not favor or disadvantage any member because of the amount contributed or a decision not to contribute. You may refuse to contribute without reprisal. Your contribution is split between National RPAC and the State PAC in your state. NC RPAC supports the efforts of National RPAC and contributes a portion of its contributions to National RPAC. Contact your State Association or PAC for information about the percentages of your contribution provided to National RPAC and to the State PAC. The National RPAC portion is used to support federal candidates and is charged against your limits under 52 U.S.C. 30116. In-kind contributions/donations are not included for the purposes of the National RPAC State PAC split. NC law requires political committees to report the name, mailing address, job title or profession and name of employer or employee's specific field for each individual whose contributions aggregate is in excess of $50 in an election cycle. Contributions can only be accepted from individuals in the form of personal checks or credit cards. Contributions from corporations or business entities cannot be accepted. This solicitation was paid for by NC RPAC