Legal Q&A | Selling property with an abandoned house
QUESTION: I have been asked to list a 10-acre parcel that includes an abandoned house. There are no working utilities, there are holes in the roof, floors and walls, and most of the windows are broken. In short, the house appears to be beyond repair. I have two questions. First, which listing agreement should I use, the one for vacant land (Standard Form 103) or the one for residential property (Form 101)? Second, does my client need to fill out a Residential Property and Owners Association Disclosure Statement ("RPOADS"), a Mineral and Oil and Gas Disclosure Statement ("MOG"), and a Lead-Based Paint disclosure (Form 2A9-T)?
---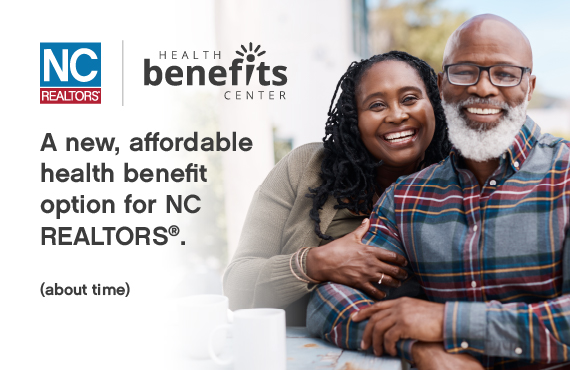 NC REALTORS® Health Benefits Center - Cost-effective health coverage solution for you!
We all feel it: health insurance premiums keep increasing year over year, far outpacing the cost of living. With no group coverage to count on, it hits independent brokers and agents hard. Now there's a unique new health benefits option. The NC REALTORS® Health Benefits Center, provided exclusively to NC REALTORS® members and their families, is open for business—and it can save you thousands of dollars per year. Get Started >>

Have questions? Join us at one of our live webinars coming up in November and December. We'll dive into the details and answer your questions. Register Now >>
---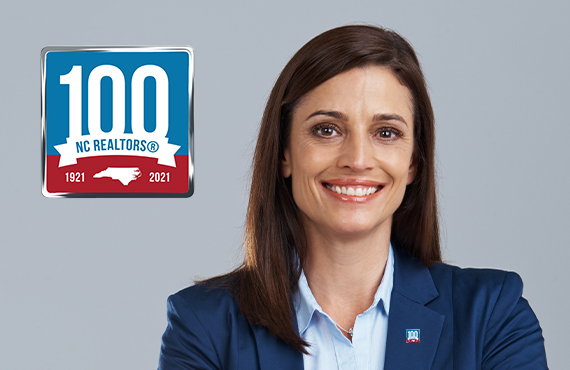 Win $2,500 cash and an NC REALTORS® Anniversary Pin
Enter the NC REALTORS® Housing Foundation $2,500 Cash Giveaway Raffle! Tickets are just $25 each, and 100% of the funds raised support community-based initiatives, including disaster relief, workforce housing and regional grants. Purchase 4 tickets and receive an NC REALTORS® 100th Anniversary lapel pin!* The raffle ends December 16, 2021, at 11:59 pm. Buy Tickets »

*Anniversary pins only available to the first 300 entrants.
  
 
---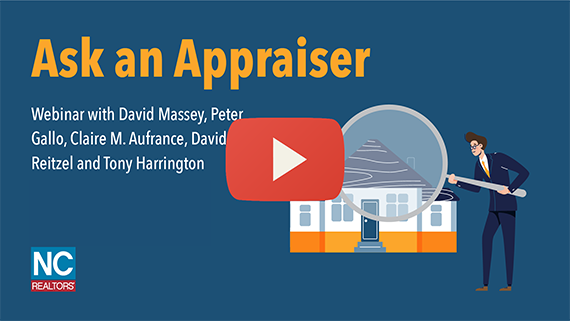 So, when can I talk to the appraiser?
The short answer is any time before the appraiser submits the report to their client. This is a great question and quite a common one that Brokers ask, or just don't understand. More specifically, "What can I say when I communicate with the appraiser?" We have the answers and clear up all the misconceptions in our recent "Ask The Appraiser" webinar, now available on-demand! Watch now >>

This webinar was brought to you by the NC REALTORS® Appraisal Section, a group of REALTOR® appraisers who focus on protecting and promoting the appraisal process through advocacy and education. Join this professional group for just $35. Join Now >>

The join link requires your website login. On the Member Dashboard, click the black button with the words "Apply for Additional Membership". Select "NC REALTORS® Appraisal Section" in the Association dropdown menu and Continue through the process.
 
 
---
NC REALTORS® Global Network Receives 2021 NAR Platinum Achievement Award
For the fourth year in a row, NC REALTORS® Global Network has been awarded the NAR Platinum Achievement Award! The Platinum Achievement Award is presented to REALTOR® associations that provide the highest level of global services to its members by consistently providing them with the tools they need to handle international real estate and connect with the global community in the area. We thank everyone who participated in our programming so far and look forward to a great 2022! Learn more >>
 
 
---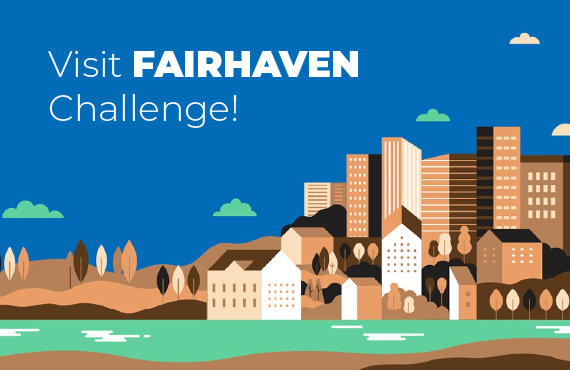 Visit Fairhaven Challenge Winners Announced
Congratulations to our Visit Fairhaven Challenge Winners! BICs and local associations were encouraged to complete NAR's fair housing simulation training, Fairhaven, between April 1 through September 30, 2021. Local association winners received $500 to support future Fair Housing or Diversity & Inclusion Training for their membership. Three $1,000 cash prizes were awarded to the winning firms. There is still time to visit Fairhaven and receive some free fair housing swag. Challenge ends December 30. Learn more about the Visit Fairhaven Challenge >>
 
 
---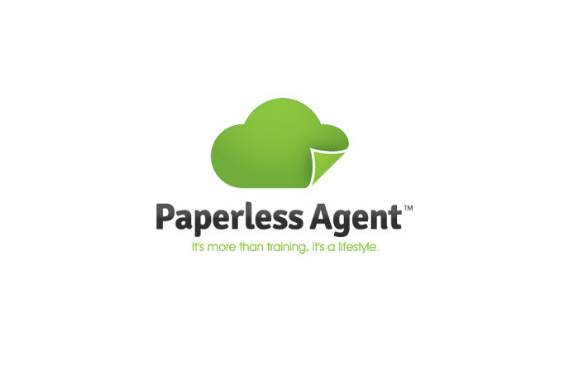 Stay ahead of the competition in 2021
Put your 2022 marketing on auto-pilot so you can stay ahead of the competition with less work, no stress and more time in your day to make more money! Join Paperless Agent for a FREE webinar to get to the easiest 12-month real estate marketing calendar. It's all happening on Thursday, November 18. Save your spot >>