GAD Takeover of the Advocate
August 12, 2022
NCR Government Affairs Directors (GADs) across the state have a quarterly GAD Takeover of the Advocate! It will focus on local policy, events and news. It takes a closer look at Local Association advocacy efforts and community engagement. Each GAD provides a unique, personalized peek into their region in the state. The GAD Takeover offers a break from state legislative news and takes you on an advocacy trip around North Carolina, from the mountains to the coast and all areas in-between.

This edition of the GAD Takeover will show the GADs taking over Philadelphia at the annual NAR GAD Institute. NCR GADs took an active role as conference presenters and planners. We will also look at the power of REALTOR® advocacy and get an update on short-term rental regulations.

For additional information on any of the items below, please click on the GAD's name that is associated with the content. To access the map to see who your GAD is, please click here.

GAD Takeover of NAR GAD Institute in Philadelphia

High Country NC: Michael Cooper, Shared & Regional GAD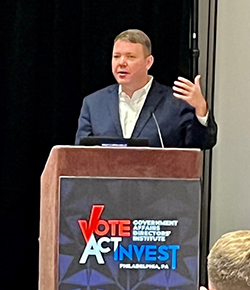 Michael participated in the panel Lay the Groundwork and Advance Industry Issues with Community Outreach. Moderated by REALTOR® Party Community Engagement Liaison Greg Herb, the session covered how NAR grants can address housing, planning, and economic development issues for associations. Michael spoke on how NCR used three Smart Growth Grants in 2021 to support Main Street Development projects in Marion, Newland, and Spruce Pine. In addition, he discussed a Housing Opportunity Grant to support a Housing Needs Assessment in the High Country.

He encouraged attendees to use the grants strategically to address long-term issues in their communities and leave a legacy. Michael also recommended engaging local membership through a liaison committee to support the grant, to partner with the right stakeholders in the area to further the work of the project, and to leverage the grant funding to get others to support the cause.

Inner Coastal Plains: Katharine Wendt, Regional GAD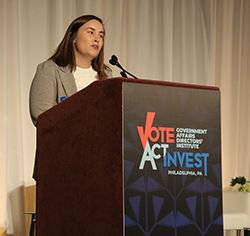 Katharine serves on the NAR GAD Advisory Group which works in conjunction with NAR to provide input and advice to NAR for the development of GAD educational and professional development programs, including (but not limited to) the GAD Institute.

She planned a session for the GAD Institute titled Fair Housing and the Appraisal Gap. The session featured Maureen Sweeny, SRA, AI-RRS, a residential real estate appraiser in Chicago since 1989 and Dr. Junia Howell, an urban sociologist and race scholar, who currently works at the University of Illinois Chicago. Maureen discussed the role of an appraiser and the regulations they are required to follow. While Dr. Howell discussed issues with bias in appraisals and policy recommendations.

Regional Updates

South Central NC: William Bradford, Regional GAD
Village of Pinehurst Short Term Rental (STR) Regulations
Over the last six months, the Pinehurst Village council have taken steps to regulate or ban STRs within the village. Earlier this month, on a 4-1 vote, the Village Council passed more stringent party house rules, overnight parking rules, banned public urination and created a requirement that all rental properties have smoke detectors. These steps were taken as ways to mitigate what they claim are some of the key issues that STRs are causing. These were also changes that impact all residencies in the village, not just STRs.

More recently, the VOP Council have been discussing using PDO amendments to ban STRs in single-family housing districts with an amortization period for existing STRs. The proposed amortization period has ranged from 1-6 years in different discussions. At the 7/26 Work Session of the VOP Council, the PDO amendments were sent to the Planning and Zoning Board for public comment. The next two meetings of the P&ZB will include public comments on these changes before they make their recommendations to the village council.

RPAC Events
Last Month, Mid-Carolina Regional Association of REALTORS® hosted their first annual Summer REALTOR® Family Luncheon. At the event, RPAC ran a Dunk Tank where members were able to dunk their BICs. We raised over $1,000 for RPAC at the event.

Eastern Piedmont Triad: Genise Smith-Watkins, Shared GAD
High Point Regional Association of REALTORS® (HPRAR) Testified in Favor of Reviving the High Point Fair Housing Assistance Program (FHAP)
HPRAR Board President Madalyn Kunow along with other local groups/organizations testified at a recent public hearing of the High Point City Council in support of the Fair Housing Assistance Program. During last month's meeting, the FHAP fell short of a majority vote in support of the ordinance that would establish FHAP with the department of Human Relations. Fashioned after the federal fair housing initiatives, FHAP allows local residents with fair housing complaints to speak with someone locally rather than traveling to Raleigh for assistance. The draft ordinance required 2/3rds support from members, and after heated debate, the measure failed to receive the necessary support. We are exploring options to convince the City Council members who opposed the measure that the FHAP is necessary and would be a valuable service to the residents of High Point.

Far West NC: Mike Butrum, Shared and Regional GAD
Merger News
The merger of the Western North Carolina based real estate company Beverly-Hanks and Associates, and Allen Tate headquartered in Charlotte has been big news not only in Western NC but also across the state.

Allen Tate is a 65-year-old company with closed transactions of 6.8 billion dollars. It is the largest NC real estate company. Beverly-Hanks, which was formed in 1976, currently has 18 offices throughout Western North Carolina with over 460 REALTORS®. It ranks in the top 200 largest firms in the U.S.

RPAC Events
The Land of the Sky Association of REALTORS® held a successful RPAC phone bank in June raising over $10,000.

In September, NC REALTORS® PAC will host a Regional RPAC Fundraiser at the Kenmure Country Club located in Flat Rock, NC. Asheville hosted this event in 2021 and raised in excess of $10,000. We hope to raise even more this year.

Western Piedmont Triad: Emma Kate Sowder, Shared GAD
REALTOR® Advocacy
The Winston-Salem Regional Association of REALTORS® (WSRAR) has been engaging in a fight to keep housing affordable in Davidson County. The county has proposed an increase in the minimum lot size for all residential housing development, with lot sizes going from 20,000 to 30,000 square feet. This change would increase the average cost of housing by about $10,000, in a market that has already seen an average increase of $70,000 this year due to inflation.

Davidson County members and John-Lewis Godfrey, WSRAR President, recently spoke out against this increase at the Davidson County Planning Board meeting. Because of this advocacy, the members of the planning board delayed voting on their recommendation to the Commissioners. Advocacy work will continue on this issue as it comes before the Planning Board and Commissioners later this month. However, WSRAR considers this change a great example of the power of REALTOR® Advocacy as the Planning Board had originally planned on a quick approval to enact the increase.

Associations & GADs Collaborating

Sandhills and Triangle: Ryan Kluk, Shared & Regional GAD & Eastern Piedmont Triad: Genise Smith-Watkins, Shared GAD
Carolina Core Real Estate Economic Development Summit
Longleaf Pine Association has joined forces with Greensboro Regional REALTORS® Association (GRRA), High Point Regional Association of Realtors and the NC Carolina Core to bring the Carolina Core Real Estate Economic Development Summit (HPRAR) to Sanford. The three associations were recently awarded $3,000 each from NCR Innovative Grants to offset event costs. The information-packed event will inform attendees about the growth opportunities in the NC Carolina Core. This meeting is open to everyone who is interested in learning more about the NC Carolina Core. REALTORS®, local economic developers, government officials, builders, investors, and business people are encouraged to attend.

The Carolina Core is a 120-mile stretch of central North Carolina along U.S Highway 421 stretching from Interstate 77 to Interstate 95. The largest cities range from Greensboro, Winston-Salem, and High Point to Sanford and Fayetteville. The Carolina Core is home to four strategically located certified mega sites that offer advanced manufacturers room to grow. These sites, coupled with the lowest corporate income tax in the US, a future-ready workforce, and convenient access to major markets, help position the Carolina Core as the ideal location for a company's next big move. Economic growth creates jobs, housing needs, and development potential, which helps everyone in the area prosper. For more information about the NC Carolina Core, click here. GRRA and HPRAR will be providing members lunch and an event bus for transportation.
---
Local Associations are a foundational and integral part of NCR's advocacy efforts. NCR members are engaged with state and local lawmakers, and strong advocates for their communities. We encourage you to coordinate with your GADs to highlight all the work that's being done in your areas, whether it's volunteerism, RPAC initiatives, your efforts in protecting private property rights, or promoting issues important to the real estate industry.

Please contact Warren Wakeland or your GAD for comments and suggestions.