Legal Q&A | How do I correctly request a listing agent to increase the offer of compensation?
QUESTION: I am representing a buyer who is interested in an MLS listing in which the listing agent is offering compensation to buyer agents that is a percentage point less than the fee the buyer agreed to pay me according to our buyer agency agreement. The buyer doesn't have the cash to pay the difference, so she only wants to look at the property if the listing agent will agree to increase the offer of compensation by one percent. Is there a form I can use to request the listing agent to increase the offer of compensation, and if there is, should it be referenced in any offer the buyer may make and/or presented with the offer?
Don't waste time stressing over forms, disclosure or landlord/tenant law. NC REALTORS® has free, unlimited access to the NC REALTORS® Legal Hotline. Call 336.294.1415 or email
legalhotline@ncrealtors.org
for quick resolution, so you can return to your clients and your business.
---

Help your local association win $500 by signing up for REALTOR® Party Mobile Alerts
Introducing NAR's advocacy texting platform, REALTOR® Party Mobile Alerts. It's your direct line to essential updates on national and state legislative actions right on your cell phone or tablet. When a call for action is launched, you'll receive a brief text message with actionable information. Join now by clicking here or simply text NCREALTORS (no spaces) to 30644. Even if you've previously signed up, doing it again could help your local association win $500!"
---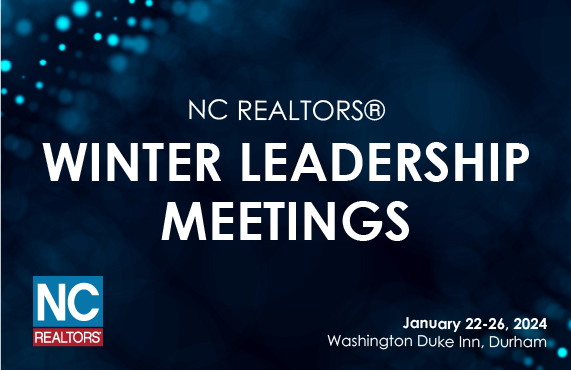 Save the Date: Winter Leadership Meetings Registration Opens Tomorrow!
Get ready to secure your spot at the highly anticipated 2024 Winter Leadership Meetings. Registration opens tomorrow, September 19, at 2PM for all members. Join us from January 22-26, 2024, at the exquisite Washington Duke Inn in Durham for an incredible lineup of events, including NC REALTORS® PAC Training, Vision Quest, Business & Committee Meetings and the installation of Tony Harrington as the 2024 NC REALTORS® President. Tomorrow at 2PM, you'll receive an email from NC REALTORS® Events with the link to register.
 
 
---

Enhance Your Real Estate Listings with DO AudioTours™
We're thrilled to introduce our latest REALTOR® Partner, DO AudioTours™. This innovative tool instantly generates AI-powered audio for your property listings and offers translations into over 20 languages, complete with closed captioning. You can also personalize it with your own voice and easily share it across various platforms! Try it now »
 
 
---

Start your 2024 with sun, fun & CE
Set sail with NC REALTORS® on one of the most amazing cruise ships for our annual CE at Sea educational adventure, February 24 – March 2, 2024. You will explore the Eastern Caribbean with your NC REALTORS® colleagues and complete your 2024 Continuing Education at sea with instructor Mark Saunders. Register »
 
 
---

Is now the right time for health insurance? Absolutely
The NC REALTORS® Health Benefits Center is the only health benefits solution offered through NC REALTORS® and provides independent contractors and sole business owners an opportunity to take control of and save on healthcare expenses. The Health Benefits Center is open for year-round quoting, with effective dates on the first of every month if you sign up by the 15th. There is no need to plan around the calendar year - you can enroll when it's best for you. Get started »

NC REALTORS® will never call or text you about the Health Benefits Center. Any texts or calls about health insurance associated with NAR or NC REALTORS® could be a scam, so please proceed with caution. Our organization has not and will not sell your information to outside parties.
 
 
---

Let Expired Listings Reach Out to YOU!
Discover the game-changing "Reverse" Expired Listing Campaign! Unlike traditional methods involving endless cold calls and texts, this system lets expired listings come to YOU. Join The Paperless Agent on Tuesday, September 19, at 12PM for a FREE training session where you'll gain valuable insights into this set-it-and-forget-it approach. Learn how to establish "Listing Preeminence" and access scripts to overcome seller trust issues. Register today!

Paperless Agent is part of our REALTOR® Partners Program, an exclusive benefits program for NC REALTORS® offering discounts on the products and services you use most. Sign up to receive our Partners Newsletter and be the first to know of special offers and program savings. Sign me up »